The TreeNursery
---
***
**
And if we would know, that the world would go down tomorrow
*
We would plant a little apple tree today…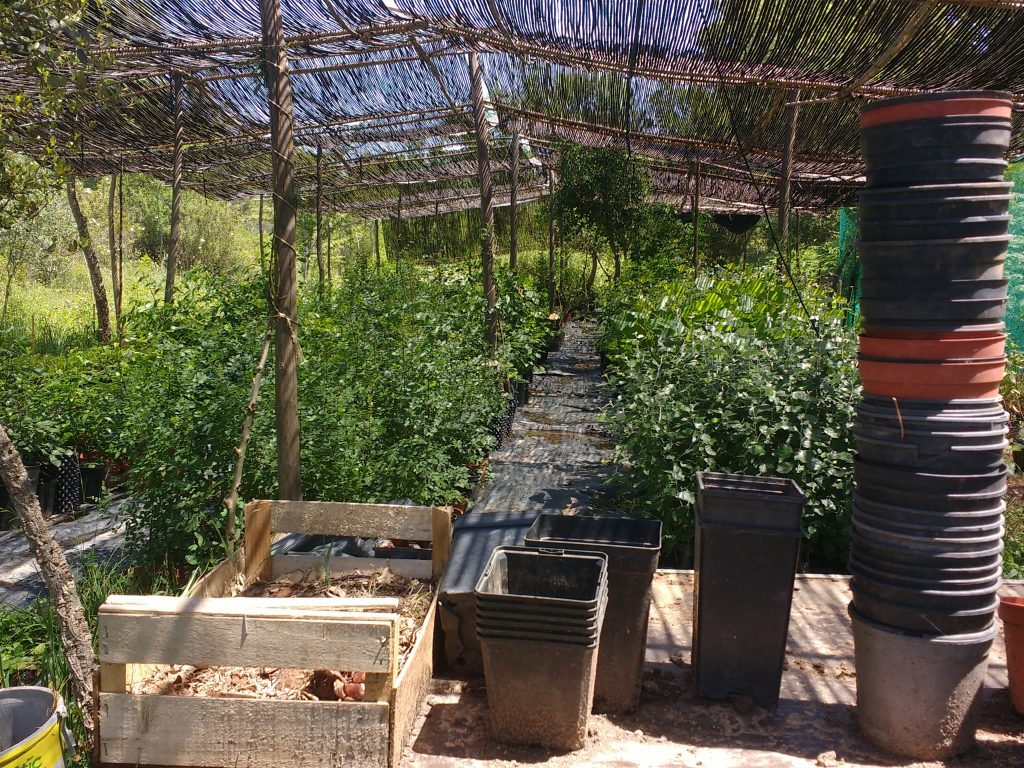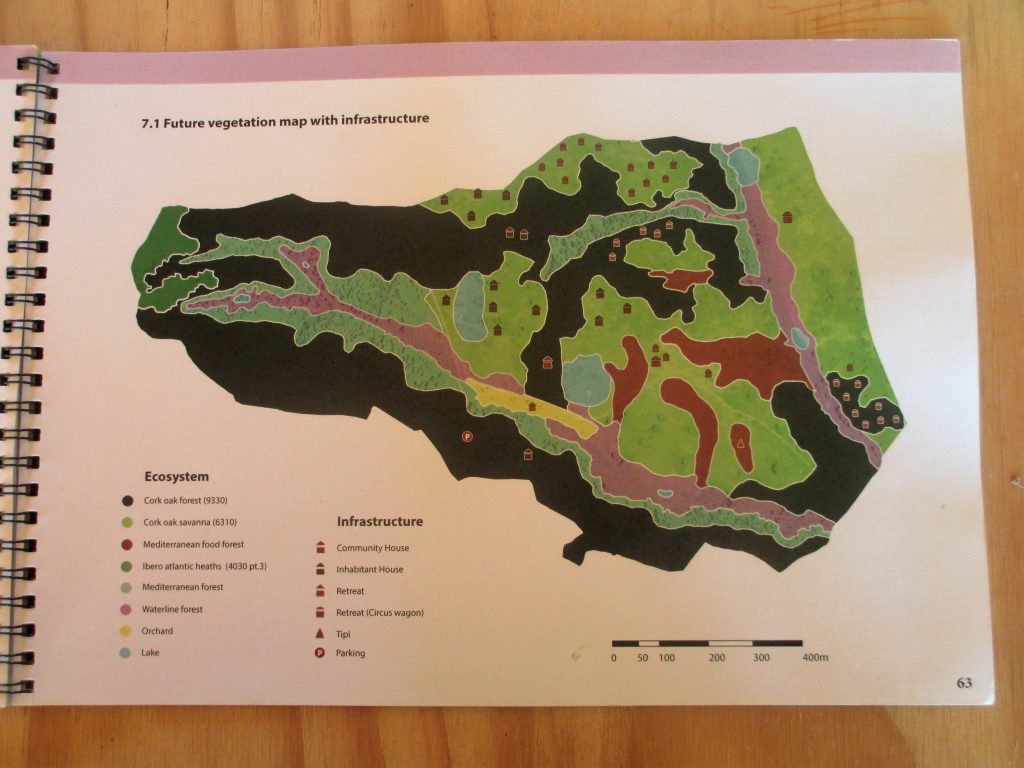 future plans for Vale Bacias…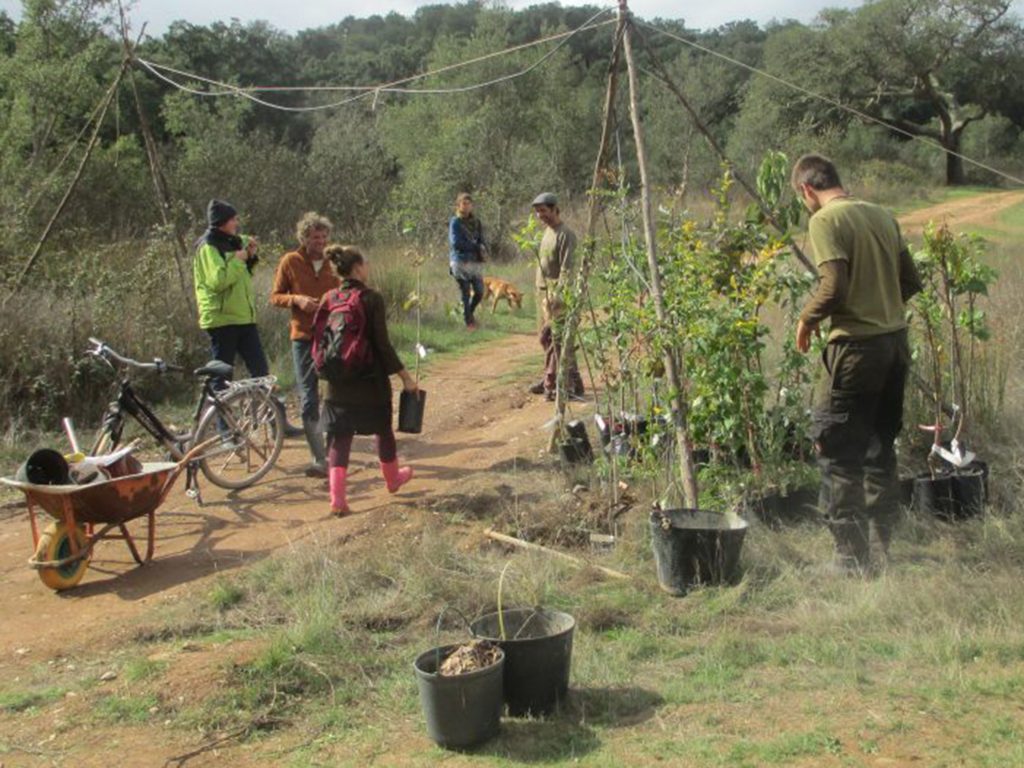 Thanks a lot to  'Eco Interventions' 
for starting a tree nursery in Vale Bacias, to support  the regeneration of a healthy, diverse forest and produce as many trees as possible, reforest "the whole Alentenjo" and also – let's say – to "make school" and teach their techniques of restoration.
Here they grow a wide variety of native tree species, which are needed to complete the diversity of natural plant communities and strenghen the resilience of the natural forest. In the forest of Vale Bacias they are accelerating the natural succession and forest growth through selective cutting and chop and drop of excessive pioneer species. This technique is as well helpful to decrease fire risk and enable a better accessibillity for human activities.
There will be regularly courses and planting actions;
* Forest School – Forest is School … "Forest makes School"
* Forest regeneration (Soil building, seedling production, planting techniques)
* Grafting on wild fruit trees
'Eco Interventions' 
---
is an independend collective of Circuito Explosivo (non-profit-organisation), working together with other organsations like Quercus (National Conservation Organisation) and ICNF (Institute for Nature Conservation and Forest). We are specialized in A.N.R. (Accelerated Natural Regeneration) and F.L.R. (Forestry Landscape Restoration).
Our organisation aims to restore native habitats while creating self-sustaining, fire safe ecosystems. We work on innovative forestry, combining nature restoration and productivity, developing alternatives to monoculture plantations – trying to restore nature back into its natural state of balance and abundance.
One of our goals is to organise social events in collaboration with local communities and public schools to strengthen the public ecological awareness while passing on information and knowledge to younger generations to set the base for a more sustainable and friendly future.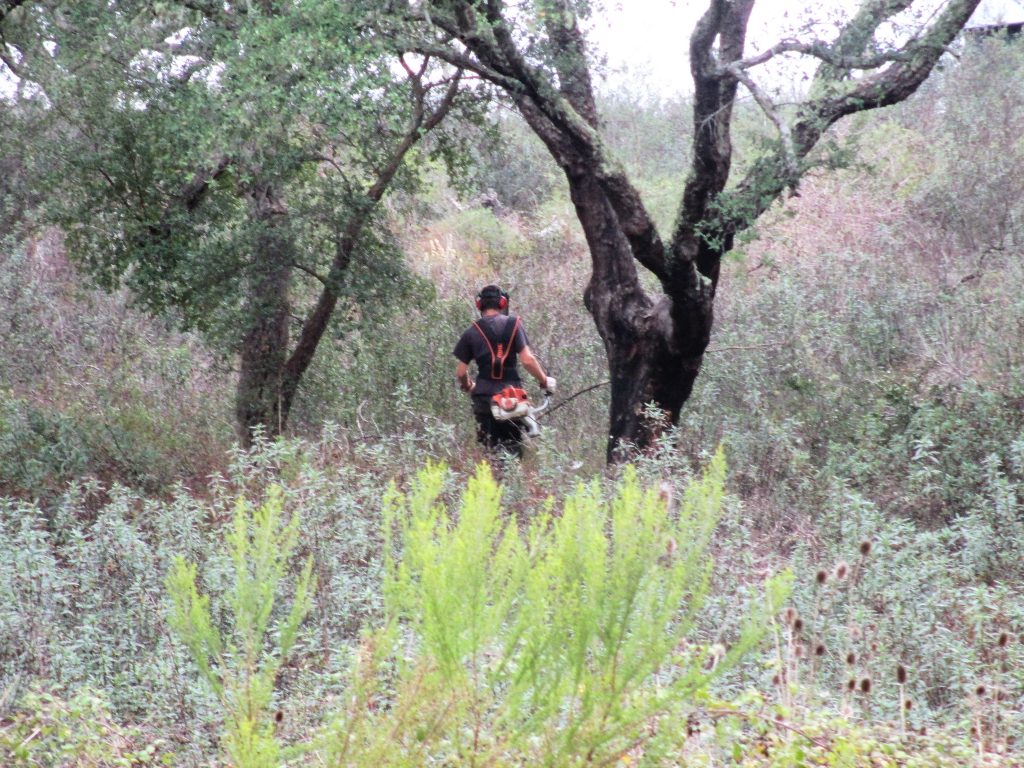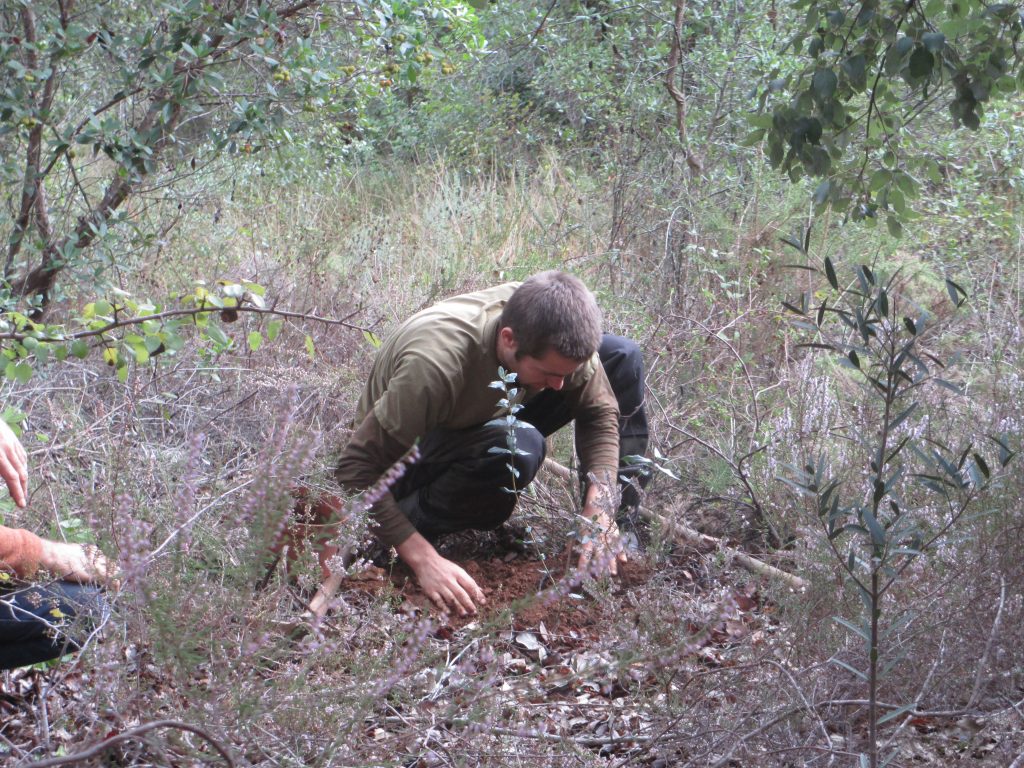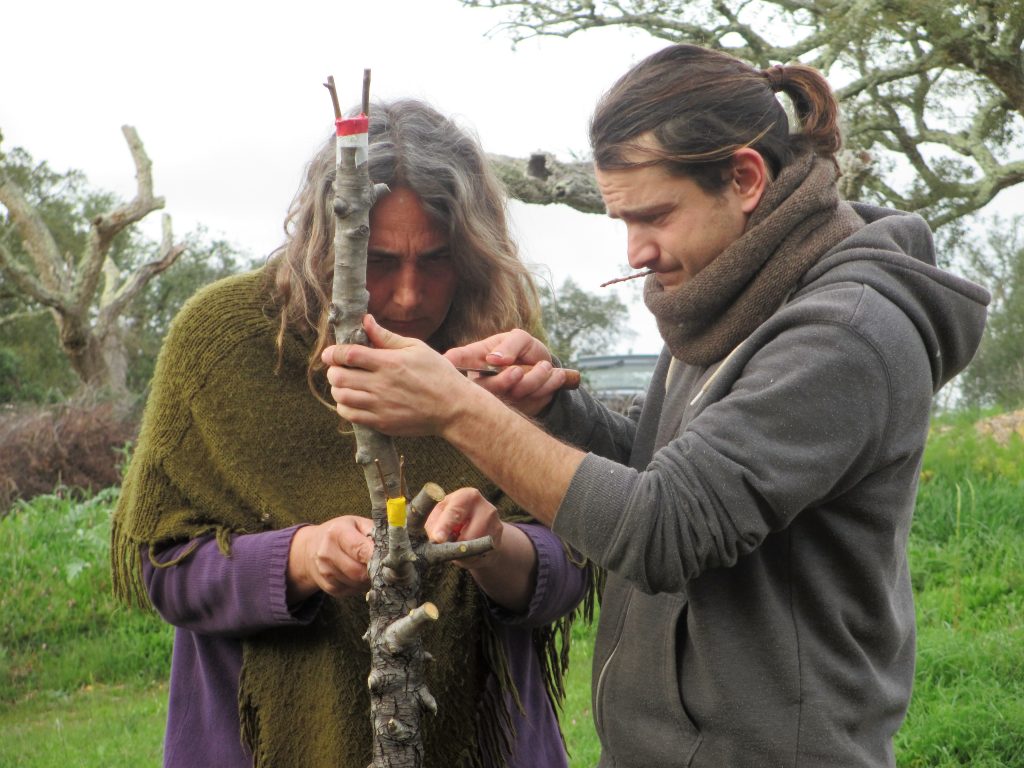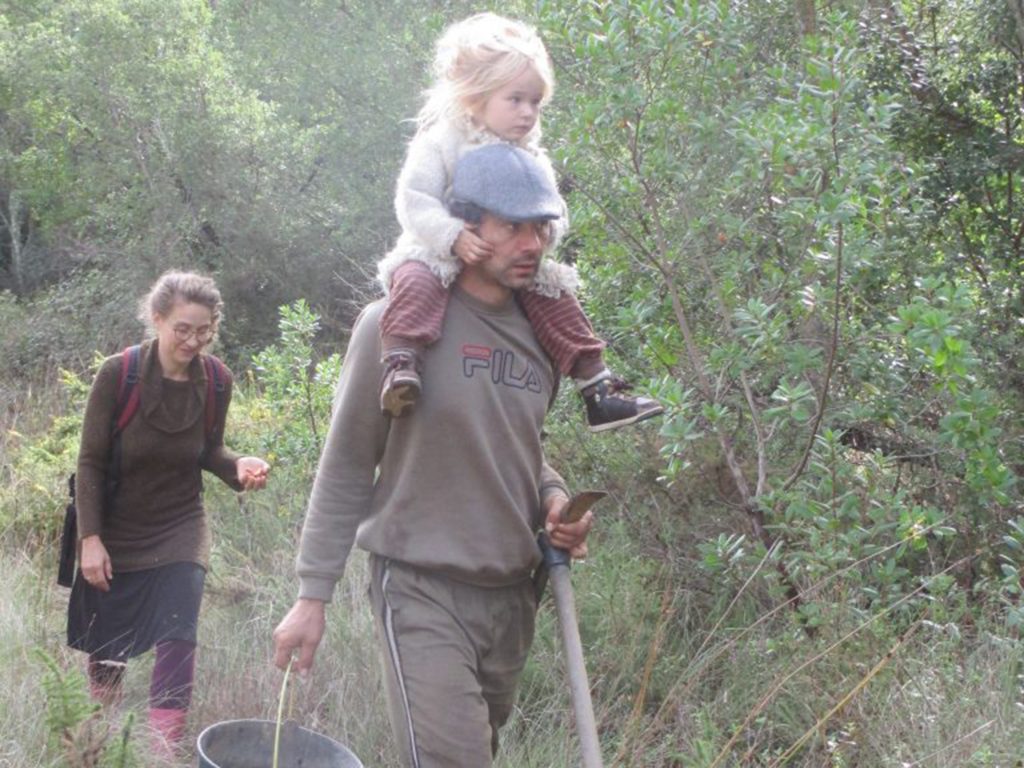 and researching together !
For Vale Bacias 'Eco Interventions' created also a management plan:
The management plan for the valley of Vale Bacias contains a specific forest and ecological development guidance. The plan should serve the founders and future land managers of Vale Bacias to conserve and regenerate nature, while developing a nature friendly community and a sustainable management of their land. Vale Bacias already has a very high potencial for a nature regeneration project.
Mapping and field works took place in the summer 2014 with the use of field surveys, aerial photography, drone videos for vegetation mapping and video traps for animal surveys.
The first part of this management plan describes the existing eco-systems, their ecological value, the current status of habitats, their importance for conservation and possible threats for the eco-systems. For each habitat, conservation and development objectives have been defined. Furthermore it gives information on animal wildlife and existing ecological corridors in the area with the focus on mammals and birds. It also contains possible threads as well as conservation and development objectives for the different animal groups, which should be conssidered in future decisions of the community and the land managers to reduce the human influence on their existence.
The second part contains possible practical interventions to conserve the habitats and accelerate the natural regeneration process on Vale Bacias during the next years. The specific interventions were developed by Eco Interventions in consultation with the founders of the community project in autmn of 2014. The practical implementation of the interventions are seperated in three parts:
– Complex interventions in "very important areas", where professional skills are required. These interventions should be realized by Eco Interventions or other specialists.
– Medium interventions in "less important areas", where some know-how and guidance is required. These interventions could be performed by the community itself under the guidance of Eco Interventions.
– Easy interventions, where no special skills are required. These interventions could occure in open workshops to integrate local communities and spread information on forest regeneration and nature development to the public – strengthening the ecological awareness.